HOME >
ABOUT US >
POLICY
POLICY
Safety Management, Health, Security and Environmental Protection Policy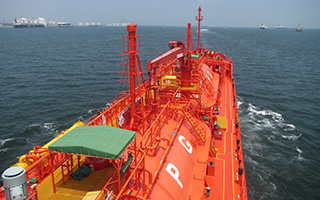 STAR MANAGEMENT ASSOCIATES set up an effective and appropriate Safety Management, Health, Security and Environmental Protection Policy to guarantee that quality and reliability of the management service for the type of ships mentioned below are maintained by the Company, for the Safety of Life, Health of Crew, Security of Ship and Personnel, Environmental Protection, also safe and reliable management of ships.
Type of ships under management : Gas Carrier
To achieve this Policy with the target of "0"(Zero) incident and "0"(Zero) pollution, and aim to improve the services, Company has established the Safety Management System with Risk Assessments to ensure safeguards and compliance with the requirements of International Safety Management Code and other relevant international conventions.
This established Safety Management System is applicable to the Organization and the persons who are in charge of Ship Safety Management, Health, Security and Environmental Protection also to the ships mentioned on this policy.
I herewith promise to take overall responsibility for the implementation of the Safety Management System, and guarantee that all personnel working in Ship Management Organization, Masters and crew members on board ships perform their duties in accordance with the requirements of the documented Safety Management System.
I have entrusted the responsibility and authority for supervision and Maintenance of the Safety Management System to the Designated Person in the System. Designated Person shall point out problems in safety management, propose/recommend/offer solutions and measures, and shall have full authority and responsibility necessary for maintaining and improving the Safety Management System.
In addition, Designated Person shall be required to give necessary instructions to the Organization and Master, to discuss problems with each personnel in charge of the Organization until satisfactory solutions are reached, and to confer decisions on all problems related to management.
The basic policy related to the Safety Management System of Company has been prescribed above.
All employees are requested to adhere to this policy.